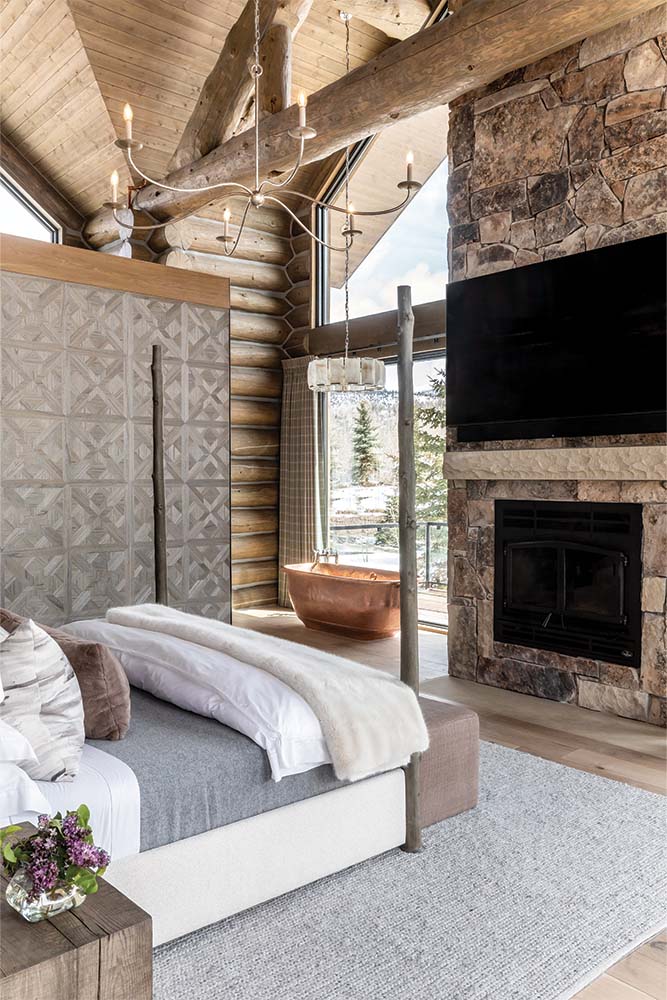 Into The Woods: Primary Suite
We're excited to share more details from our Into The Woods project today. If you follow us on Instagram, you've probably seen some of these photos before - but stick around because today, we're diving a little deeper into the design details.
The Primary Suite comprises three different spaces: The bedroom, the bathroom, and the office loft. What makes this unique is how we blended all of these spaces together. Aside from the entry to the room, the Primary Suite doesn't have a single door! To do this, we manipulated the room's layout to create separate spaces for each room without cutting off the flow of the area with doorways.

Our clients wanted the primary bedroom to feel serene. We accomplished that by blending the rustic elements of the home with a soft palette. What pulled the room together was the wood veneer wallpaper from Phillip Jeffries (that's right, wood!). The silver-blue undertones created a beautifully subtle contrast to the warmth coming from the log beams and hardwood. The wildwood poster bedframe, although rustic, is somewhat whimsical and feminine. Which we thought balanced out the energy of the space beautifully.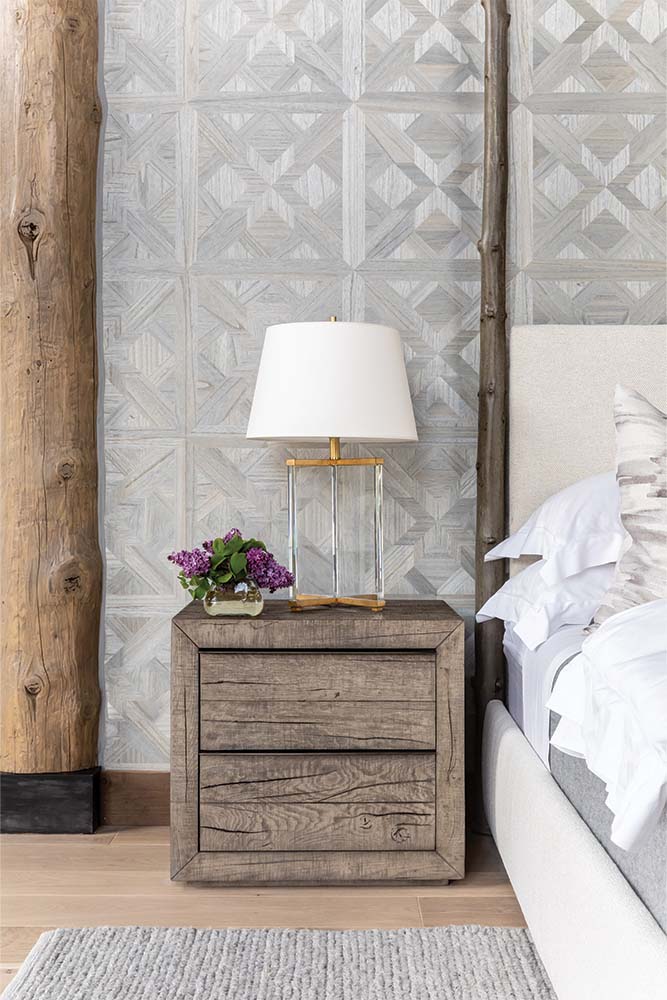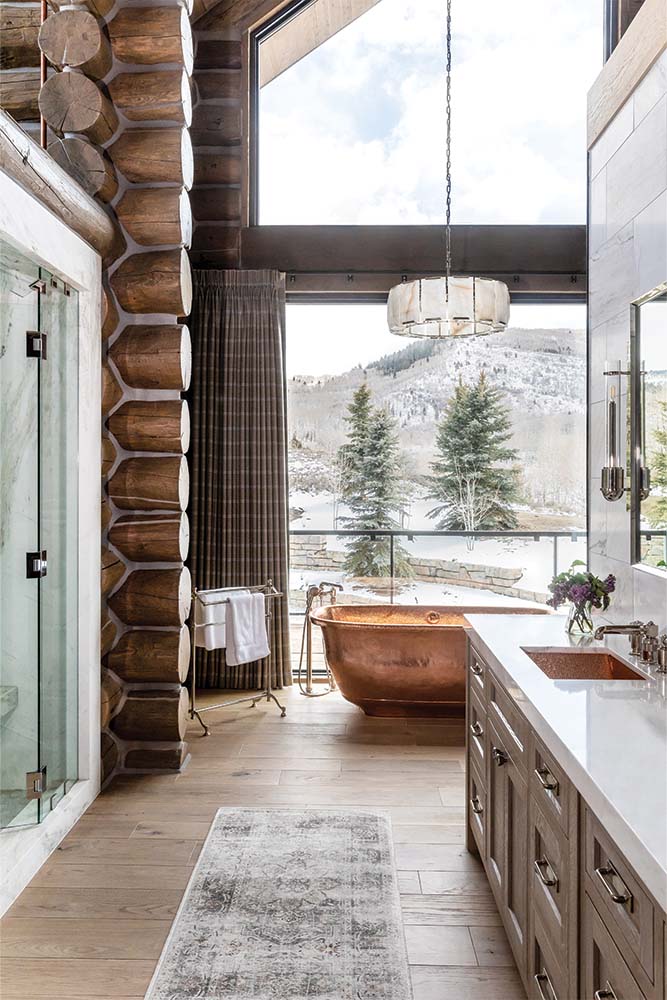 Following a vein of rustic design that respects the house's architecture, even the bathroom incorporates the log beams seen elsewhere throughout the home. The steam shower and vanity are clad entirely in Calcatta marble to soften the rugged architecture. We love how the sleek and elongated shape of the vanity sconces couples beautifully with some of the more feminine elements in this primary bath.

The highlight of this bathroom is the mixed metal finishes. I mean, c'mon! We used a polished nickel for all the faucets, lighting, and hardware - but opted for something a little more unconventional for the sinks and bathtub. The hammered copper is another ode to the mountain-chic style of the home and was such a fun addition to this bathroom. We sourced the copper sinks and the bathtub from Native Trails.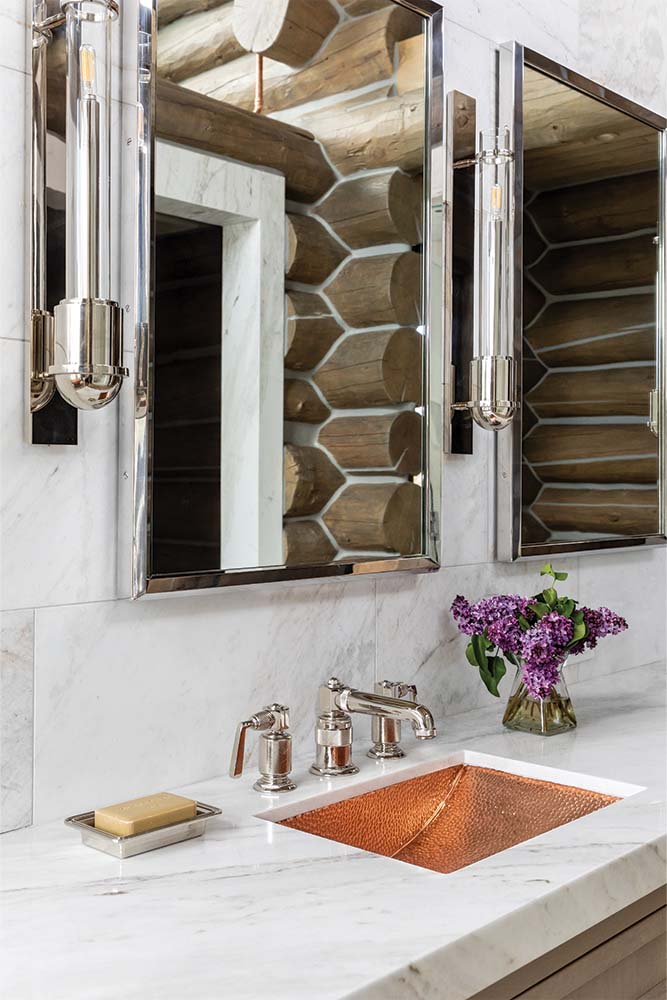 Looking down on the bedroom below, this office loft features some insanely beautiful mountain views and has two balconies. Truly, there will never be a more serene work environment than this. Walk into this office, and you'll immediately feel a sense of peace. The room is defined by a combination of rustic and modern design elements, with a few whimsical details in-between, like the Forester Birch floor lamp from Jamie Young Co.