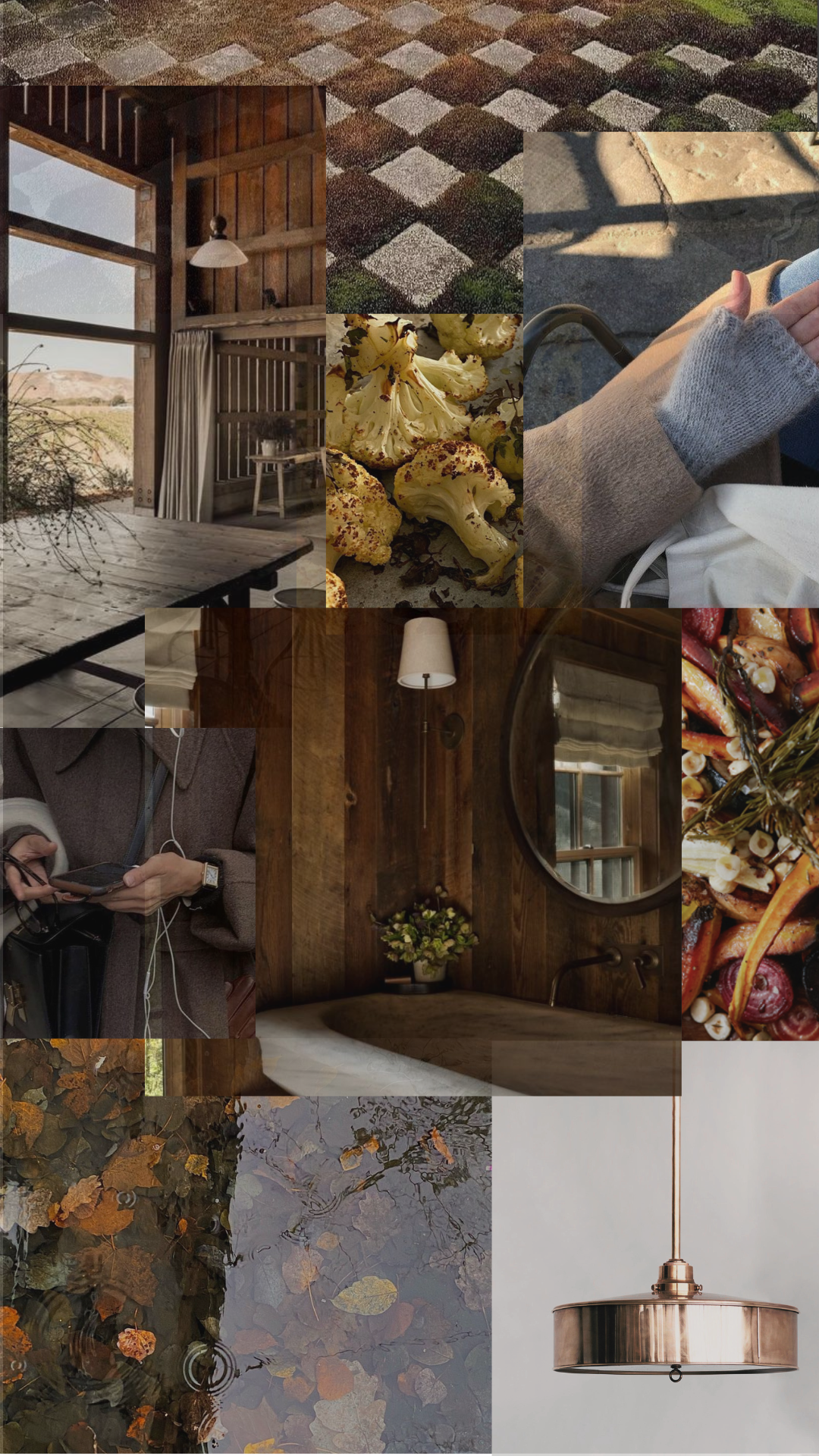 The weather has begun to turn here in Park City, and the autumn colors have really been showing off lately. We love being able to experience the full range of seasons in the Utah mountains (even though our winters are almost always six months long!) and thought it would be a fun adventure to begin sharing some monthly inspirations and musings to help us all find the beauty in every month and every season. Even though we all wish summer could last forever.
Our October musings consist of Calcutta Viola candles, fingerless gloves, reclaimed wood, roasted root vegetables, and more.
Be sure to connect with us on Pinterest. It's one of our favorite sources for gathering design inspiration! Let's get into it →

Of course, we must start the monthly musings with some seriously cozy interior inspiration. This season, we've been gravitating towards warm and moody tones - Lots of reclaimed wood paired with more elevated and sophisticated finish combinations, like this beautiful marble trough sink designed by Amber Interiors.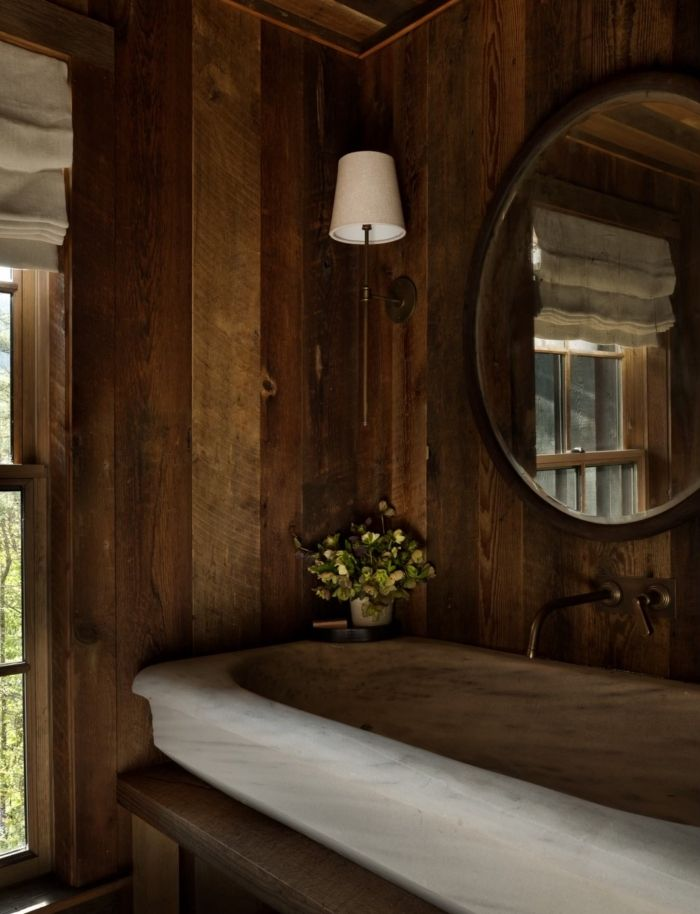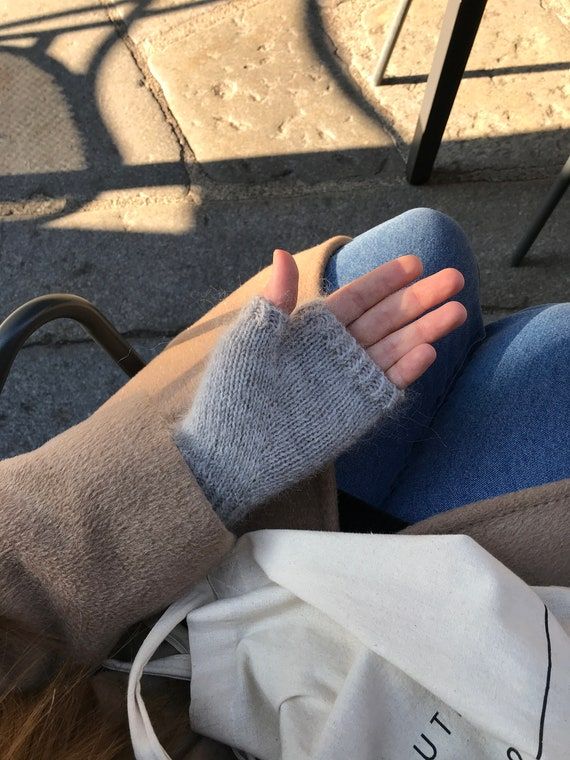 Our principal designer, Jennifer, has been sporting these fingerless gloves for years! She wears them all the time and swears by their functionality.
No doubt, these have been around for a long time, but they are especially trending this season, and we are here for it!

Okay, okay, I feel like we might be a little late to the party on this one... and there is a decent chance you have seen this candle around already, but this is our first time seeing it, and we are OBSESSED!
The Tone Candle by Not Your Standard is not only incredibly beautiful, but it's also non-toxic and clean-burning. That is all great, but what we are really infatuated with is its stunning Calcutta Viola marble vessel. I mean, this is basically a designer's dream candle come true. Right?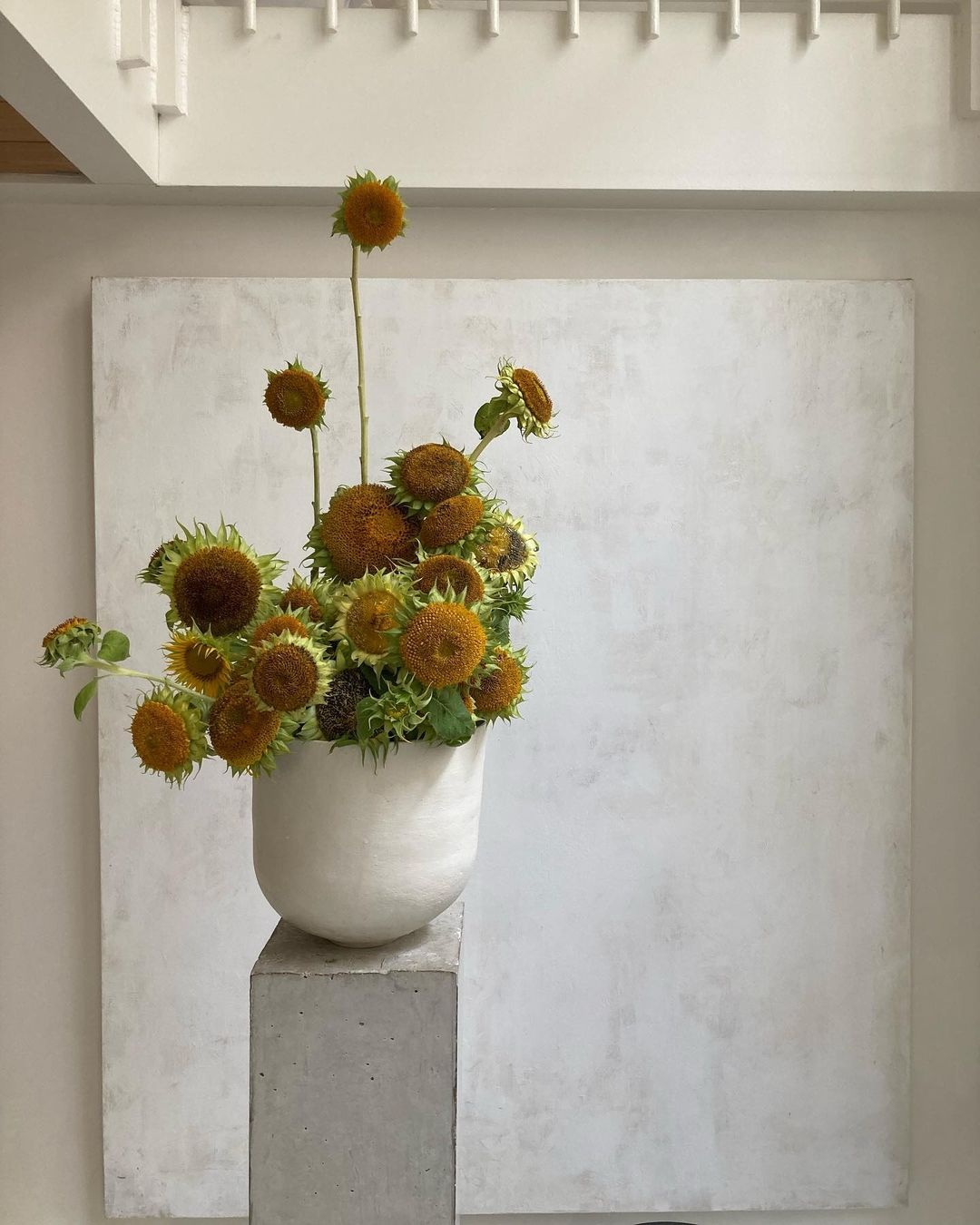 Lately, we've been venturing into the world of abstract floral design. And we love it here. The use of unconventional materials to create wild and unique arrangments is right up our creative alley.
Remember those sunflowers you picked off of the side of the road in late September? Well, we hope you haven't thrown them away yet because this abstract floral trend might be our newest obsession.
Isn't this 'dead' sunflower arrangement insane?? We've never seen anything quite like it. Once your sunflowers are past their prime, just pick off the wilted petals, clean up the stems, and enjoy your October arrangement for another few weeks.

Ummm... These roasted root vegetables with a honey orange vinaigrette look absolutely beautiful and delicious. We fully plan on making this for any autumn dinner parties.
Food and food styling by Ramblin Rose Cafe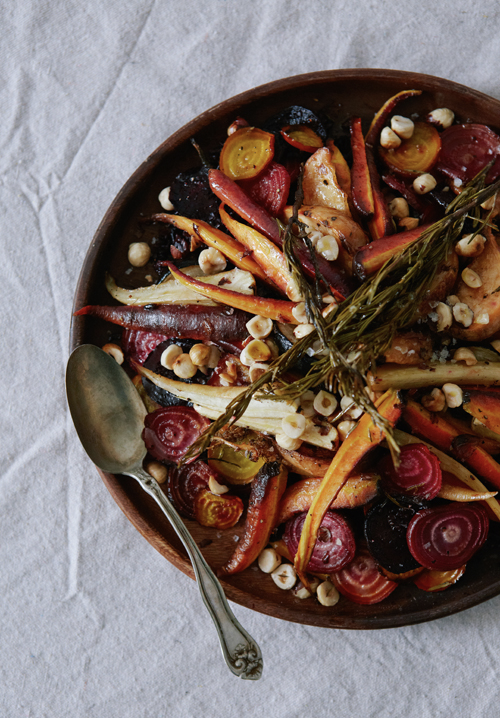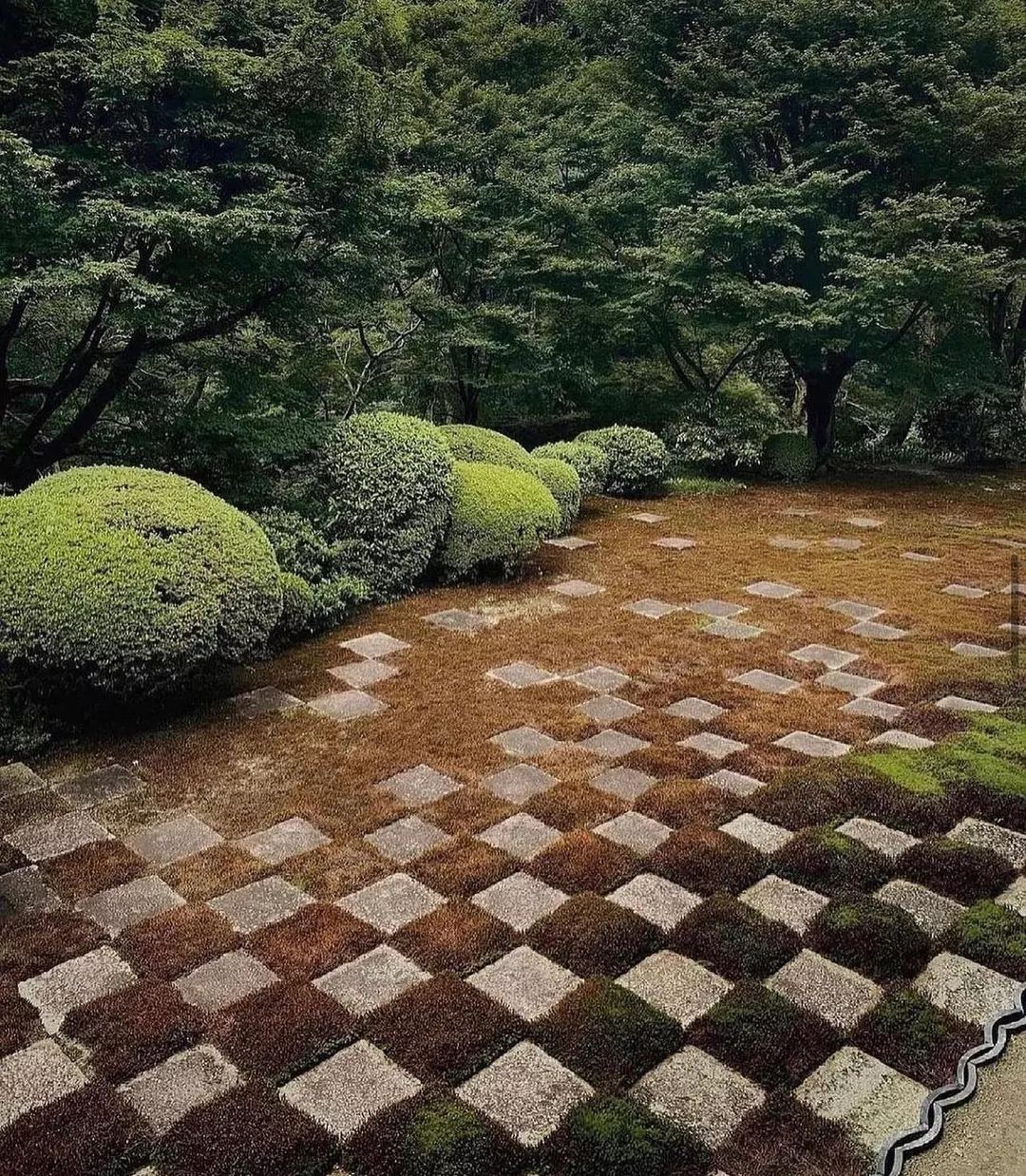 Landscape design isn't something that we typically consider after the spring and summer seasons. But this garden scene, belonging to and photographed by Hollie Bowden, stopped us dead in our tracks and made us consider the beauty that can still be found in our gardens during the colder months.

We were recently introduced to Roman & Williams Guild and have been in love with this Nantucket All Metal Pendant. Every single finish option for this piece is just stunning.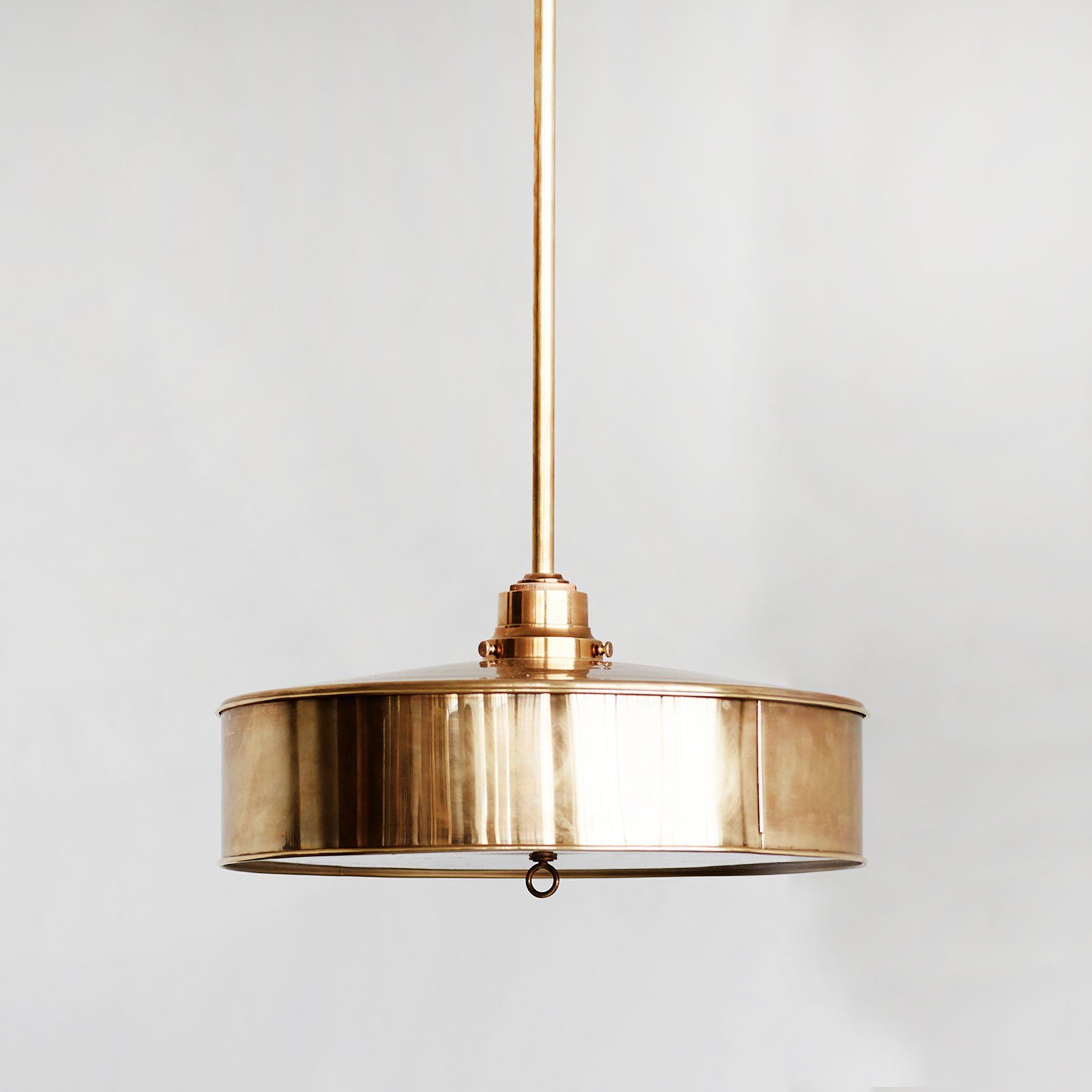 Find all of our October Musings and more interior inspiration on our Pinterest. We would love to connect with you and share all things lovely and beautiful there!
Happy October!