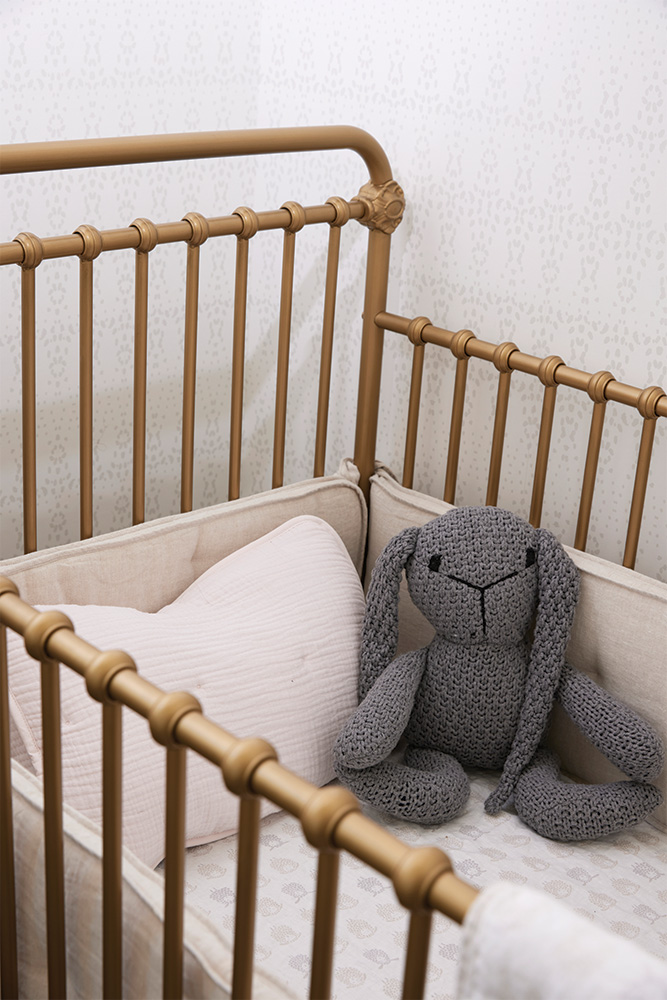 Our Favorite Design Tips For The Littles
Oh, to be young and carefree! We love designing children's rooms because it's an opportunity to create a space where imaginations can run wild and where the littles feel safe and protected—a place to nurture wonder and creativity.
These spaces are typically smaller but should be filled with personality and playfulness.
We've designed our fair share of children's spaces over the years and have come up with some common techniques we use throughout these spaces. Here are our tips and tricks for designing beautiful, functional, and playful kid's rooms:

This is by far THE most important rule for designing a beautiful children's bedroom. A fun, playful, and youthful pattern will set the tone and energy of the space and will instantly elevate the design. Not only does a fun pattern look sooo good, but it also has some pretty crazy and significant cognitive benefits for the kiddos! Incorporating many patterns in these spaces can help children learn to make logical connections and use reasoning skills. So it's a win-win.
We love this plaid wallcovering in this children's bunk room from our Fresh Take On French project.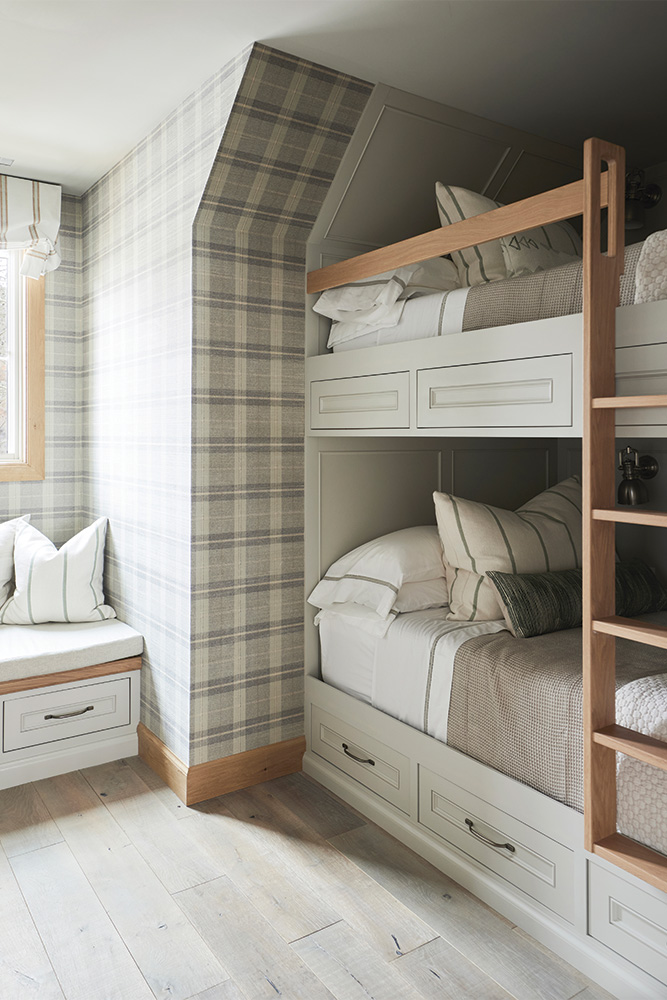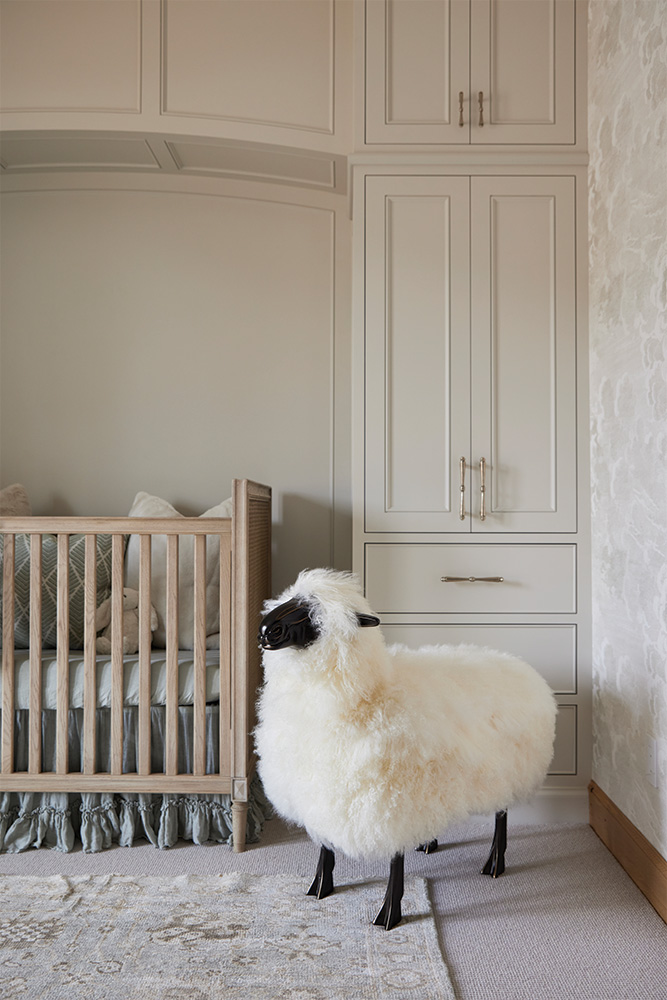 No. 2 - Add Something Unexpected
Whether it be a beautiful mural wallpaper, a small climbing wall, a piece of art orrrrrr a bronze and ivory sheep sculpture... A nursery or children's bedroom should always have something fun and unexpected. These design statements feed creativity and add a super playful energy to the space.
We're pretty obsessed with this Phillipe Sheep Sculpture from Interlude Home. I mean.... he is just ADORABLE!!

Kids attract so. much. stuff.
We love jars and decorative boxes for kids' spaces, and you can never have too many baskets. The key to maintaining a kid's space is to have pretty places to store EVERYTHING. Nothing should be without a home.
In this bunk room from our Fresh Take On French project, we had these custom drawers built to house coloring supplies, legos, and allll sorts of toys that don't need to be displayed.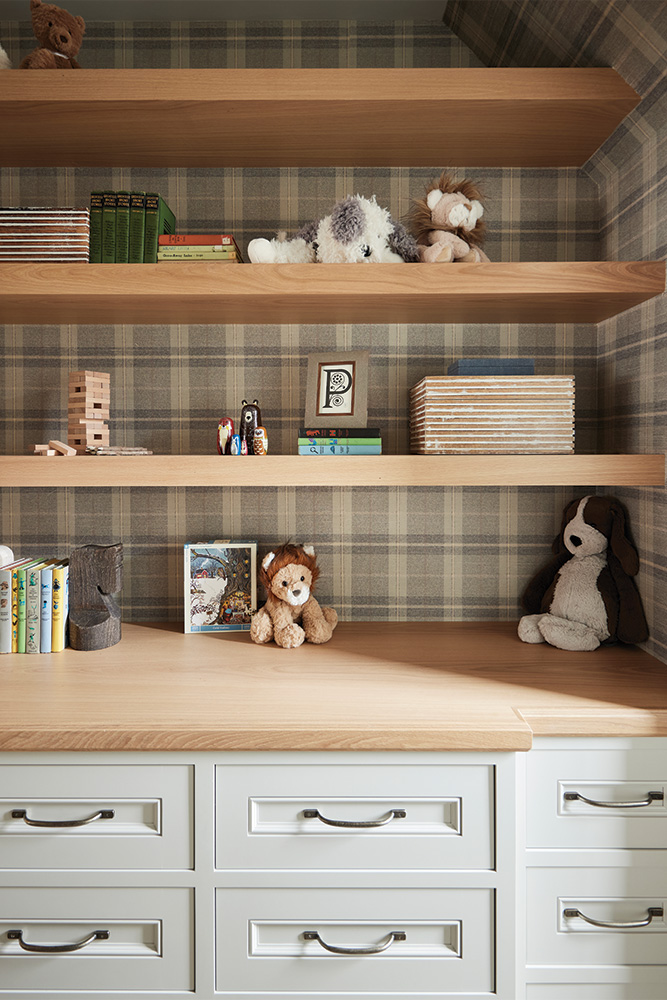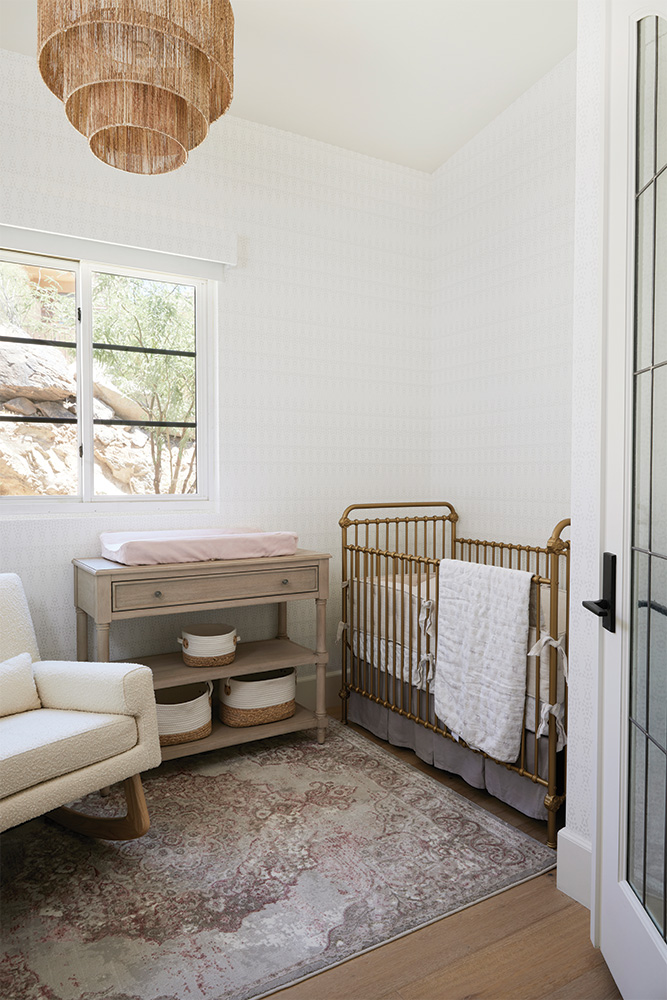 No. 4 - Get The Littles Involved
When possible, we like to get kids involved in some of the design process - because infusing their personalities into their space is important! A good starting point is to ask them what colors they want to see in their room. From there, we take that input and put together a color palette using softened versions of the colors they listed.
Later in the design process, it can be fun to show your kids a few fabric or wallpaper options to choose from. The key here is prior curation... Since you will already like all the pre-selected options, you can't go wrong!

No. 5 - Keep It Whimsical
Kids aren't little for very long... So we believe in embracing that little-ness while it's still there, in nurturing their creativity, in letting their big imaginations run wild, and in designing a whimsical nursery while you still can.
We love this Cole & Son Nuvolette wallpaper. The little clouds are delicately detailed etchings depicting rolling skies - which feel whimsical and ethereal but are muted and airy enough to maintain a calming energy in this nursery.