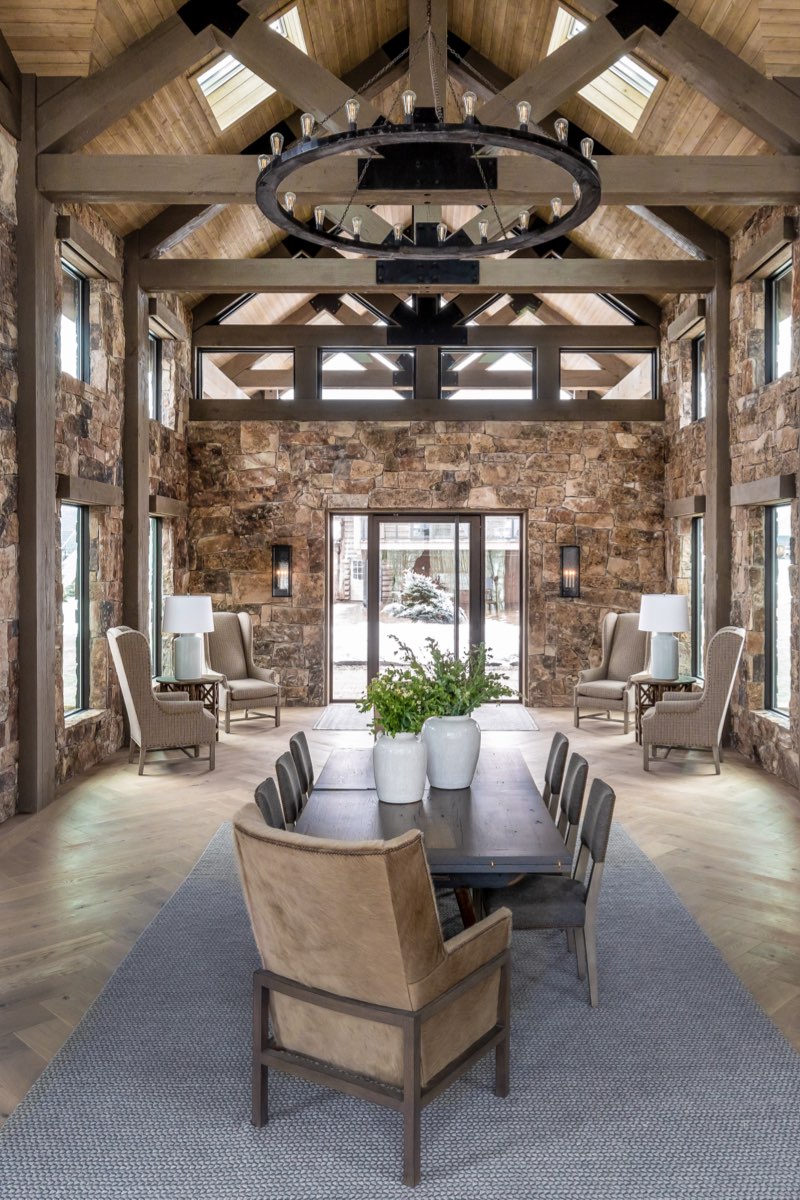 Into the Woods: Entry, Dining Room, & Great Room
You guys! We are BEYOND excited to share the reveal of Into The Woods with you!! Since Bond Design Company is only officially a few months old, and most of you may be unfamiliar with us (Hello to our new friends!), let's do a quick review. This home was bought way back in 2018. The original log cabin was about 4,600 square feet and had no work done on it since being built in the 1990s. The property is absolutely to die for, as the home is built on a 50-acre piece of land tucked high up in the rugged Utah mountains. Four years later (after the renovation was all said and done), we added almost 10,000 square feet and now have 6 bedrooms and 6.5 baths.... and oh, SO much natural light!

Making A First Impression
They say you never get a second chance to make a first impression, so we pulled out all the stops for this entryway to be a total jaw-dropper. We wanted this space to be happy to come home to, so we left the floor plan open and the windows large. Upon entering, you are greeted by the most beautiful sprawling mountain views! We chose a weathered white oak hardwood on the entryway floors and laid it in a herringbone pattern with a straight border to add some more interest.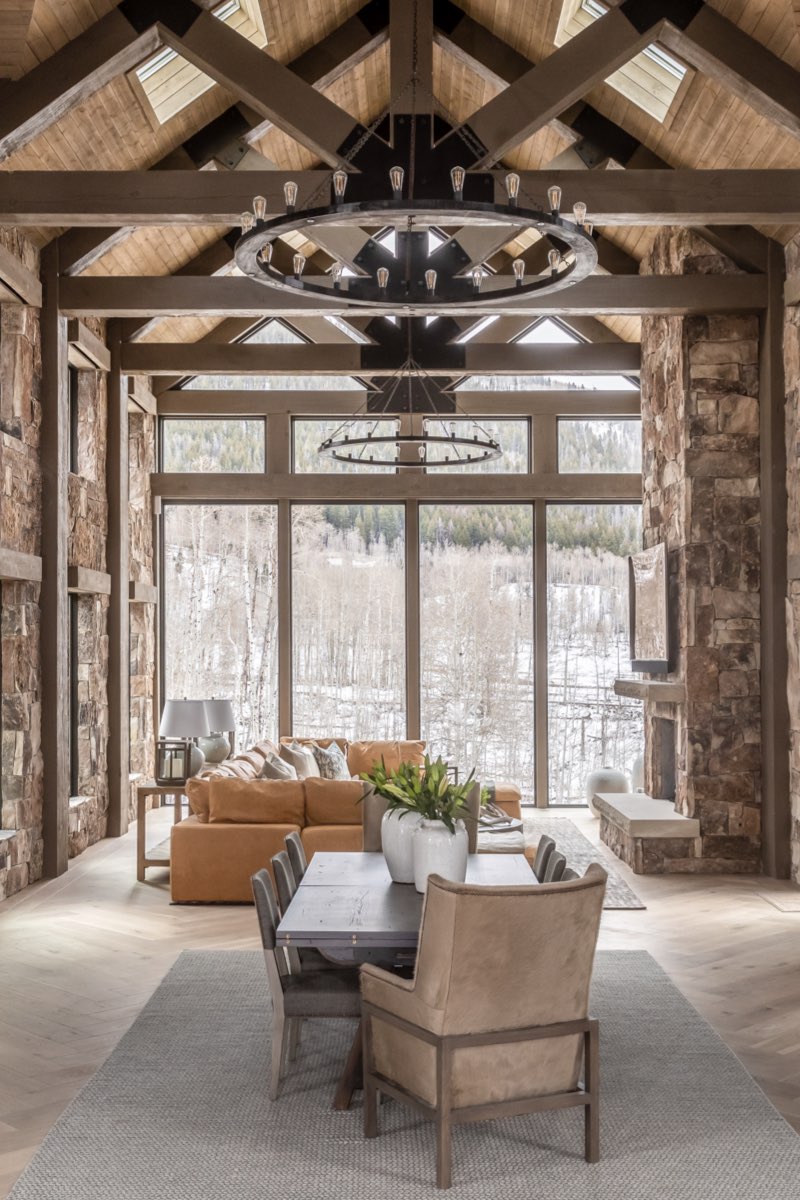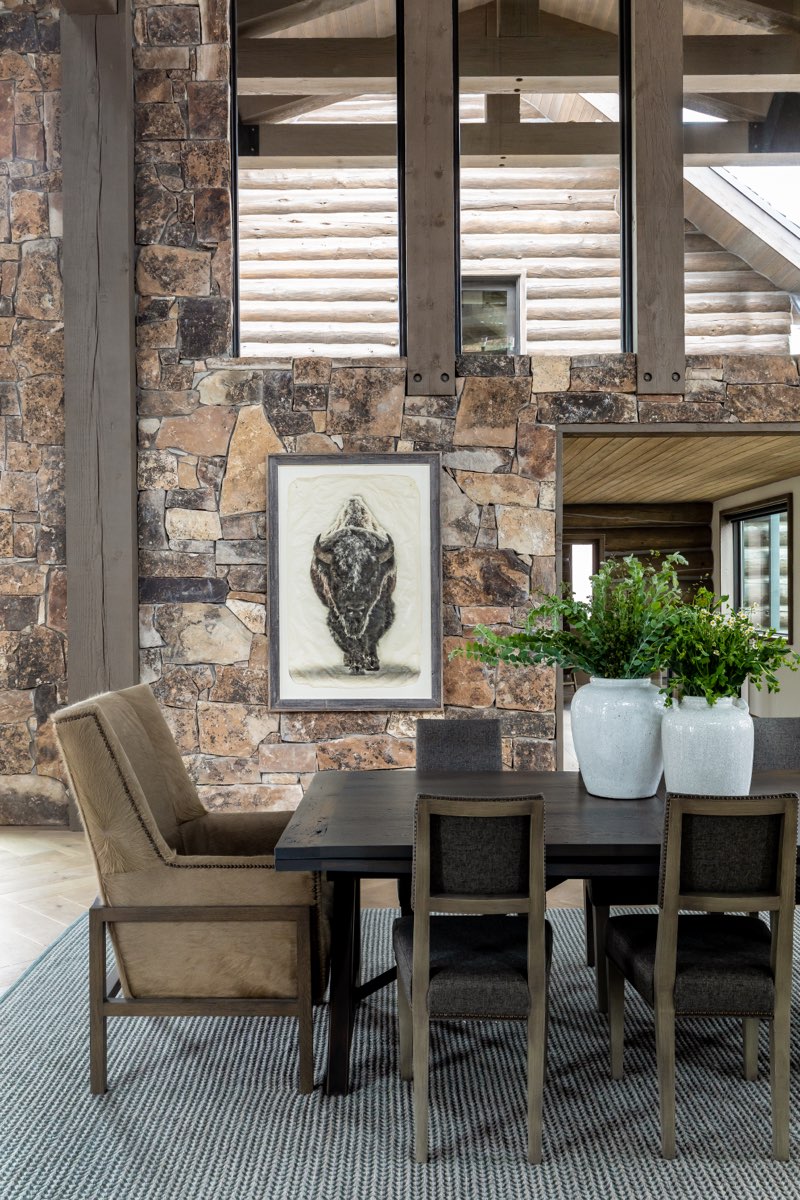 This insanely large dining table was custom made for this home by Park City Stone and Wood. It is the perfect greige-y mid-tone that doesn't feel too heavy in the space. If you take a close look, you can see where the table unfolds - it can expand to seat up to twelve when hosting events or dinner parties. You know that we love the mountain vibe, so to lean into the feeling even more, we sourced this STUNNING bison print from Pando Fine Art in Park City. The piece adds a western, vintage-y character to the space.

Okay! Check out those views! We poured so much attention into the interior design of this home, but that sprawling mountain landscape is definitely the highlight of this property. Since this great room is so tall and large, we needed to ground the space with some large furniture pieces. This absolutely massive leather sectional did just the trick. The piece is 15 feet long and can comfortably seat at least 10 guests. The pitched ceilings, locally sourced wood beams, and crazy large chandelier all work together to add scale and draw the eye up.
Stay tuned to see more of this stunning log cabin!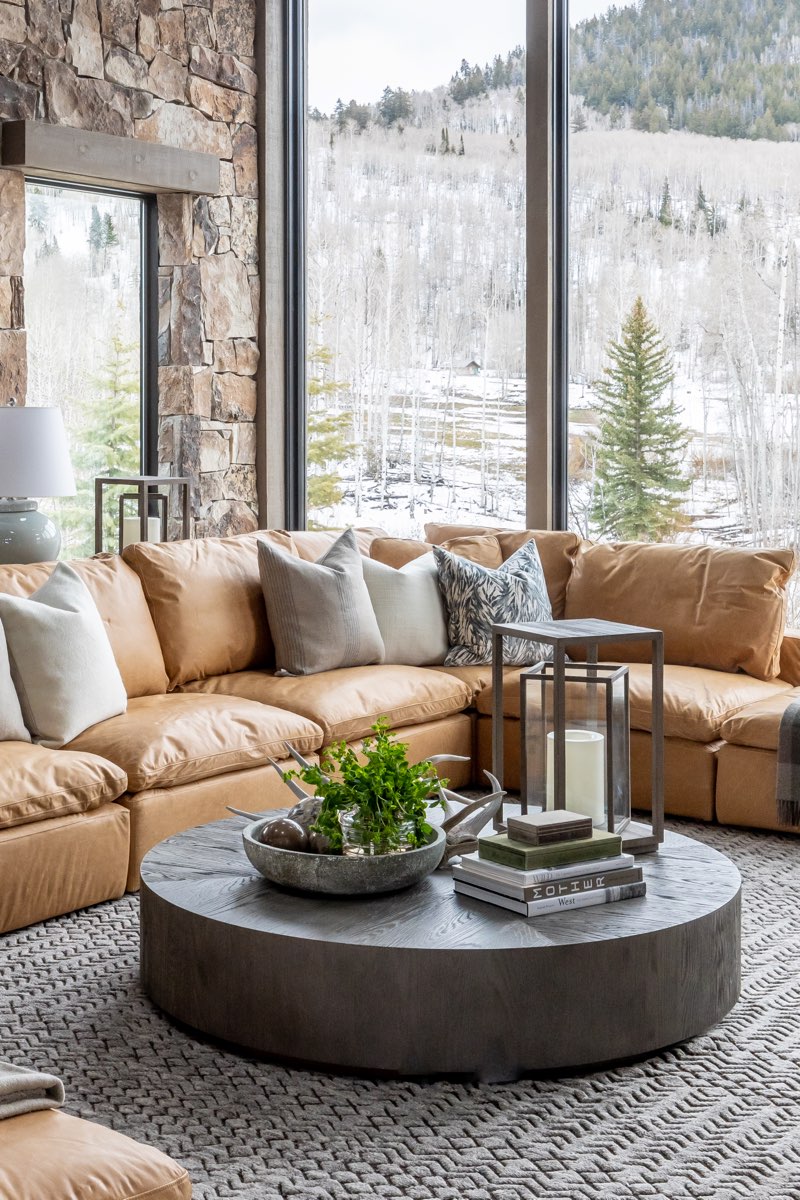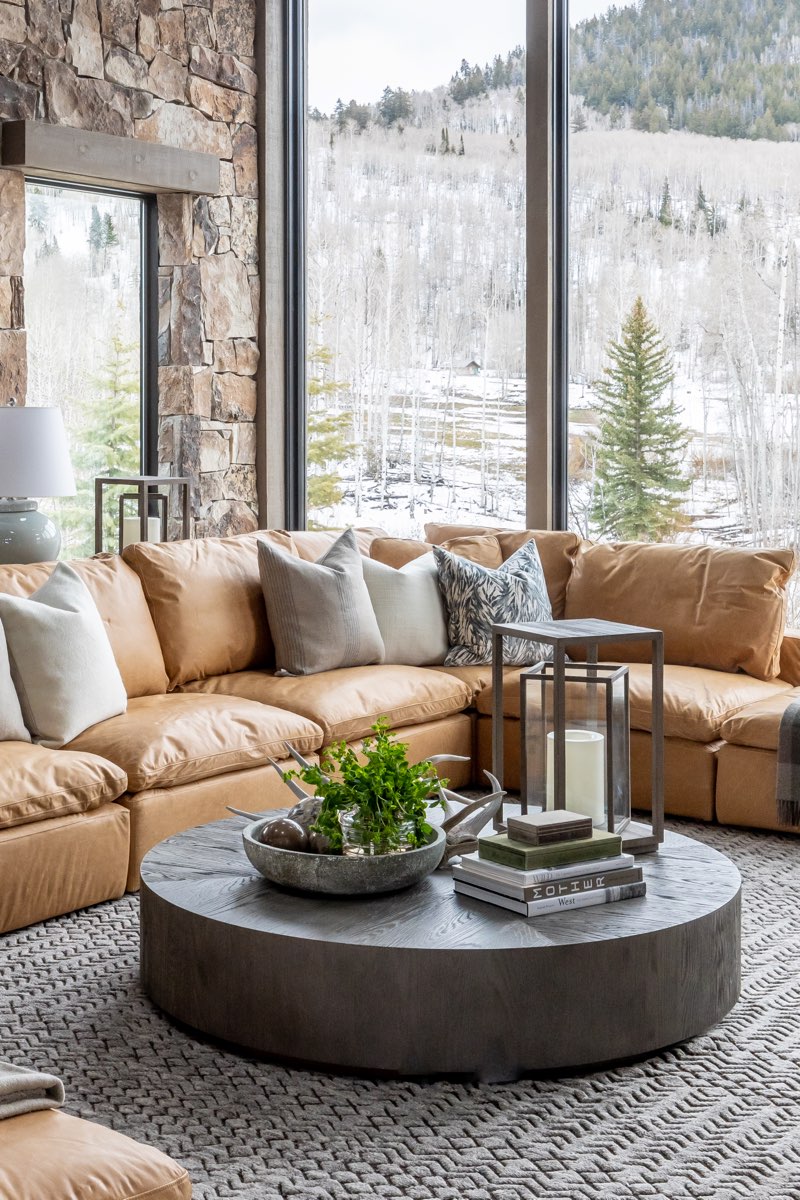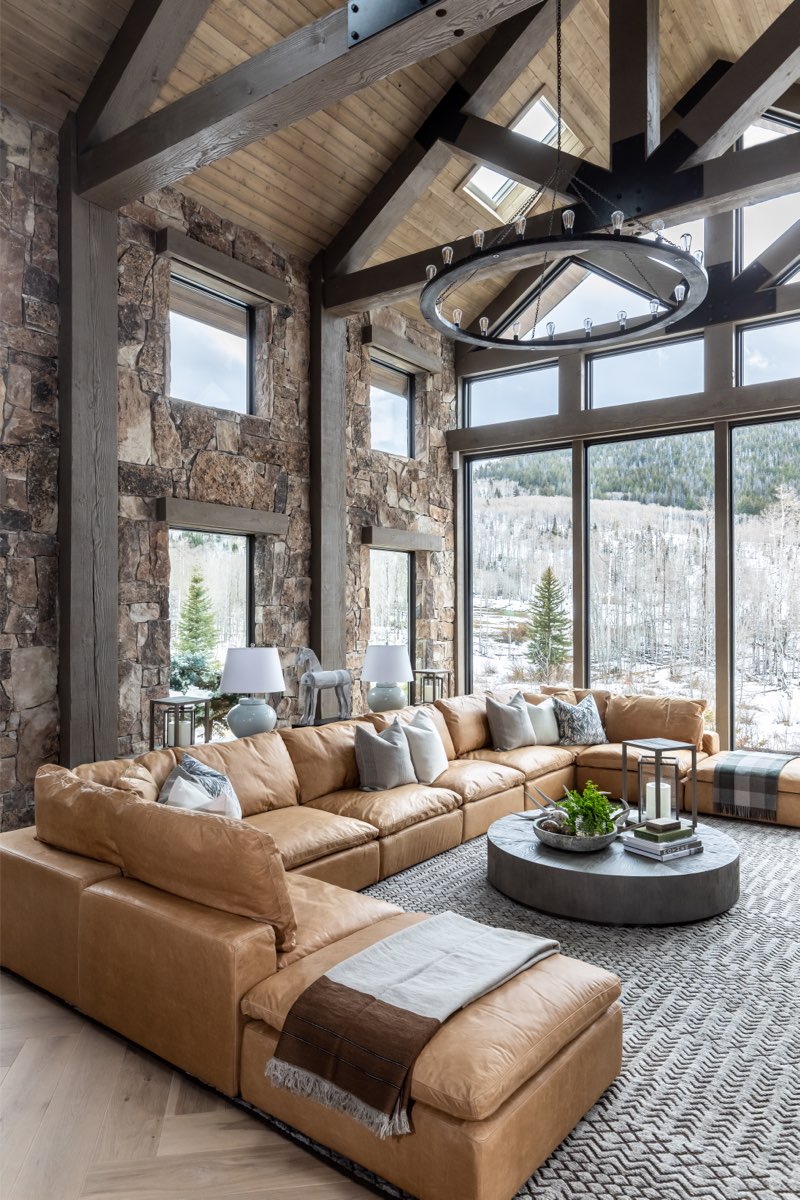 Photo: Lindsay Salazar Photography
Construction: Magleby Construction
Design: Jennifer Chipman & Chelsey Milton
*This project was designed by Jennifer and Chelsey prior to creating Bond Design Company